5 Reasons Why to Use Managed IT Services for Your Small Business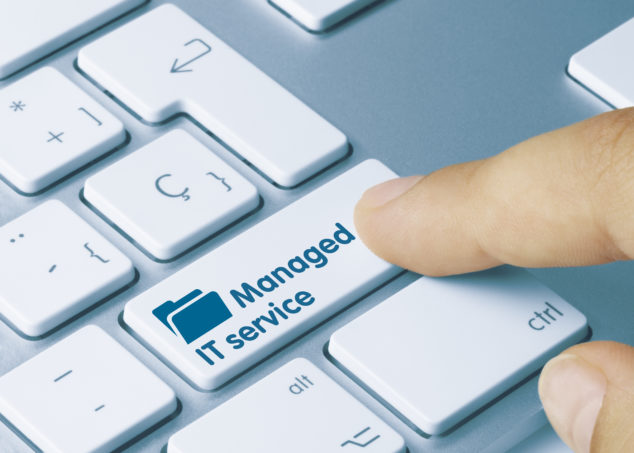 Making the decision to outsource can be confusing and even difficult. This is particularly true if you happen to be the owner of a small business rather than the owner of a large company with seemingly unlimited resources. Chances are, you probably know at least a little about the many advantages associated with using managed IT services for small business.
As the owner of a small business, you already have a lot on your plate. Consider relieving yourself of a few burdens and boosting the efficiency of your employees by contracting out to a provider for IT services. While there are several reasons to upgrade to Managed IT Services, there are five that we feel are the most valuable:
1. Cutting Costs
2. Enhanced Security
3. Peace of Mind
4. Access to Newer Technologies
5. Better Uptime
Here is more information about five major reasons you should use managed IT services for your small business.
WHY YOU SHOULD CONSIDER MANAGED IT SERVICES FOR SMALL BUSINESS
CUTTING COSTS
As the owner of a small business, cost is probably a huge concern for you. After all, you don't have unlimited funds and you need to make sure you have enough money to keep your business afloat. Many small business owners worry about the cost of managed IT services. However, the truth is that managed IT services often offer major savings for small businesses.
If you're currently paying an hourly rate for IT, you can expect to save a significant amount of money by switching to managed services. Best of all, you will likely end up getting more in terms of value for less. If you want to determine how much you can expect to save, take a look at your current expenditures and ask a managed IT services provider for a consultation. Your costs may drop by 50 percent or more.
ENHANCED SECURITY
If you choose managed IT services for your small business, you will enjoy better cybersecurity. As you have probably seen in the news, hackers are becoming increasingly skilled at conducting data breaches. Every few months, a company is plastered all over the newspapers about a data breach involving the illegal access of thousands, if not millions, of records. In many cases, these records consist of sensitive data, putting customers at risk. Choose a managed IT service provider so that your company will be protected by the most advanced cybersecurity measures. That way, it will be less likely that your data will be stolen.
PEACE OF MIND
Peace of mind is another reason you should use managed IT services for small business. When you outsource IT support, may it be for a hardware or software, rest assured that you will always have an expert on hand who will be able to help you. To prevent loss of productivity and revenue, your managed IT support will pinpoint bugs before they get the chance to impact your systems.
Instead of resolving a problem after it wreaks havoc, it is the job of the IT company to fix the issues before they cause chaos. If you want to keep your data secure, your business should have the knowledge of industry experts and the best technology available. You and your employees would need to remain current when it comes to relevant industry standards. Unfortunately, you may not have the resources or time for this.
Recruiting new staff for the purpose of securing your data can be challenging, frustrating, and time-consuming. Also, if you aren't an expert when it comes to IT, it can be difficult to know which specifications and skills to look for in a potential employee. The last thing you want is to hire people who lack the specialized knowledge and technical skill set necessary for the job. Fortunately, if you outsource IT support, you don't have to worry about any of this.
ACCESS TO NEWER TECHNOLOGIES
Many small businesses have IT staff who are overburdened or lacking in terms of skills and training needed for the management of the entire network of the company. In general, these small businesses recognize the advantages of forming a partnership with a third-party technical support team. IT outsourcing is advantageous because it will give your small business access to an additional team of IT experts for the remediation and troubleshooting of the issues that arise. Clients benefit because they enjoy access to the latest technology and top-notch solutions that boost profitability and ensure uptime. Some examples of such technology and solutions include:
1.Remote Monitoring and Management (RMM),
2.Cloud Computing
3.Backup and Disaster Recovery
When you invest in these tools, the reliability of the IT infrastructure of your small business will increase significantly. The business model for IT managed services helps address the issues associated with labor constraints. It can also help internal IT departments that don't have the resources or time to always remain up-to-date on the latest technology.
BETTER UPTIME
The final advantage of managed IT services for small business is better uptime. Every business, no matter the size, needs to be prepared for both natural and man-made emergencies. Some examples of these emergencies include power failures, data loss, security breaches, hurricanes and earthquakes. It is essential that businesses are prepared for these emergencies to ensure business continuity and uptime. IT service providers often include backup and disaster recovery as a part of their services. If you want to ensure the safety of the data of your business in any emergency, you should turn to an MSP. A good MSP will be able to help you pinpoint and prevent the damaging impact that an emergency can have on a business.
TIME TO PUT THESE MANAGED IT TIPS FOR SMALL BUSINESS TO USE
Using managed IT services will likely turn out to be one of the best decisions you'll make for your small business. For more information about the reasons you should use managed IT services or if you would like IT tips for small business, don't hesitate to contact us.